Davey Bratton's mam, Maggie, bravely shared her experience of battling mouth cancer as part of Fresh's Quit 16 campaign. Maggie featured in an incredibly powerful TV advert and her story went around the world. Sadly, Maggie passed away in 2020. Davey now wants to carry on his mam's legacy and help encourage people to quit smoking, to avoid suffering from smoking-related illnesses.
Maggie Bratton was diagnosed with mouth cancer at the age of just 45, resulting in an operation to remove the roof of her mouth. From then, Maggie had to wear an obturator – a piece of plastic which enabled her to eat and speak.
Davey, 33, who lives in North Vancouver, Canada, said: "My first experience of smoking was when I was very young as both my parents smoked heavily and it was normal in our house. I started smoking when I was around 11 and didn't really think about the impact it could have until both my parents suffered from serious smoking-related illnesses.
"In 2001, my parents got divorced and two months later my mam and I went to the dentist for our routine check-ups. While we were there my mam asked the dentist to look at a lump in her mouth, and she was immediately referred to the hospital as the dentist thought it was a tumour. Unfortunately, he was correct, and my mam was diagnosed with mouth cancer due to smoking.
"Our lives were turned upside down. Mam made me promise not to tell my older brother Peeta, as he was due to emigrate to Canada the next day and she didn't want him to worry.
"My mam was amazing throughout her battle with cancer. She had to have an operation to remove the roof of her mouth and had an obturator fitted, so she could eat and speak. She was incredibly brave and watching her go through everything she did, made me determined to quit too.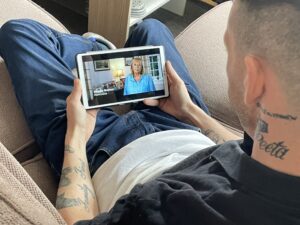 Despite having originally quit smoking, Davey started again when he was 18. He smoked for 15 years and finally stopped for good two days before his mum died.
"Everyone in my family smoked, both my brother Peeta and his partner Richard were heavy smokers too. After watching mam's TV advert, they both quit smoking and I really wanted to quit too, but I didn't at the time as I found it too difficult. However, last summer I finally decided to quit when my mam was in hospital for a routine procedure that she regularly had. We had a Skype conversation the day before she was due to go home and I showed her my vape pen, and told her I had quit. She was so pleased for me. Little did I know that it was going to be our last conversation."
Overnight, Maggie suddenly took a turn for the worse and Davey and his brother Peeta sadly lost their mam. Tragically, a few months later, Peeta unexpectedly passed away and now Davey wants to continue their mam's legacy for both Maggie and Peeta.
"The last year has been horrendous is so many ways, but I'm so pleased that the last thing I told my mam was that I'd quit smoking and that she told me she was proud of me. I haven't smoked since then and I'm now trying to persuade my partner to quit as we have a 10-year-old son and I want us both to be around to see him grow up. I also never want him to see him smoke, and I think more should be done to discourage young people from starting smoking.
"I want to encourage other people to stop smoking to prevent them going through what we have as a family. My mam was amazed by the reaction to both the campaign and TV advert. It was very powerful and there needs to be more TV adverts like that. The government should take more steps to ensure future generations don't start smoking, as it destroys lives – it really does.  More can be done and the funding for future TV adverts should be available.
"I got messages from all over the world about my mam's advert, from people saying they had quit smoking. She helped to save so many lives. It would be great if we could get more support for campaigns like this as we need to spread the word and encourage people to quit smoking before it is too late.
"I'm urging you to give quitting a go and find a way that works for you whether it is a vape or nicotine replacement therapy. Don't give up, keep trying and you will succeed. My experience of smoking is life ruining, and I don't want anyone else to have to go through that."