Shocking, raw and life-changing experiences from former smokers in the North East take the spotlight in a major new quitting campaign.
Fresh is launching the Smoking Survivors campaign on Monday, June 19 with a powerful call to the region's 314,000 smokers to "make a fresh quit" attempt.
Cathy Hunt and Sue Mountain are two real life "survivors" who were diagnosed with cancer from smoking while still in their 40s. In their own words and graphic footage, they speak of the shock of diagnosis and the devastating impact on their health, finances and family. Their emotional pleas will be featuring on TV adverts and billboards across the North East and North Cumbria.
Fresh is urging smokers to visit the regional quitting hub FreshQuit.co.uk for tips, advice and local quitting support.
It comes as a survey [1] of smokers in the region by Fresh and published today shows that:
77% regret they ever started to smoke.
46% say they reallywant to stop smoking.
53% are trying to either quit (13%) or cut down (40%).
81% want to quit for health and 46% want to also quit for finances.
The campaign is being run by Fresh as part of a commitment by all 12 local authorities in the region and the North East and North Cumbria Integrated Care Board to reduce smoking – one of the region's leading causes of health inequalities, the biggest cause of cancer and the single largest cause of preventable deaths.
Ailsa Rutter OBE, Director of Fresh and Balance, said: "Cathy and Sue are incredibly brave and inspiring people. Their only hope is to prevent more families in our region from going through the worry and the pain from smoking that they went through. This campaign gives them and others like them a voice to share their lived experience.
"Their stories are personal, but they are also the story of so many families across the North East and the UK. Most people who smoke get addicted as children and try to quit many times. Sue and Cathy have suffered greatly because of tobacco but they are now living every day glad to have put smoking behind them.
"Every time you try to stop smoking you learn, even if you don't succeed. That is why we are encouraging people to make a fresh quit – this time it can be different."
Amanda Healy is chair of the Association of Directors of Public Health North East and Director of Public Health for County Durham. She said: "The North East has seen one of the highest rates of smoking and smoking-related illness in the country but also one of the largest falls in smoking. Campaigns like this which raise awareness of the harm of smoking and benefits of quitting reach across generations and encourage people to stop and stay stopped, or not to smoke in the first place.
"The North East is working together to reduce the burden of smoking-related illnesses and improve the chances of all our residents, from babies to older people. But we also need action nationally to make smoking history for more families."
Recent figures from Cancer Research UK show that the rate of people dying from tobacco in the region is higher than the England average. Smoking remains the biggest cause of death in the North East and is responsible for around 3,100 cancer deaths each year. That's a third (33%) of all cancer deaths in the region.
Dr Neil O'Brien, executive Medical Director for the North East and North Cumbria Integrated Care Board said: "Smoking is one of the biggest causes of ill health and early death in our region which is why we have set a goal to reduce rates of smoking from 14.8% to 5% or below by 2030.
"As a GP I see first-hand the devastating effects smoking has on the health of my patients and the impact it also has on their loved ones too. I would like to say thank you to Cathy and Sue for sharing their own personal stories which I hope will inspire many others to quit smoking. It's never too late to quit and there's lots of support out there to help you or a loved one take your first steps on that journey."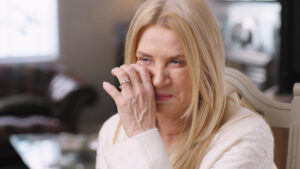 Cathy Hunt, 57, a mum of four from County Durham and originally from Sunderland is finally hoping to be cancer free after three rounds of surgery. She's making a brave plea to smokers to quit, just days after having a kidney removed.
Cathy was diagnosed with lung cancer and had half a lung removed in 2015. She underwent surgery again last year when the cancer returned and has now had a kidney removed having been diagnosed with kidney cancer. She has urged smokers:: "Don't wait until it is too late – and don't ever think like me it won't happen to you.
"Two days before my 50th birthday I found out I had a tumour on my lung.  You hear the word cancer and the first thing I thought was "how do I tell my girls?"
"Even with cancer, quitting smoking was the best thing I could do. I don't think I would be here now had I continued to smoke, and I have the strength to fight what is happening now.
"I am just pleased to get the opportunity to share my story. if it makes just one person stop and consider the harm smoking causes not just to the individual but their families, I will be pleased. Too many people are seriously ill and dying from smoking.
"It is not easy to stop smoking, but you never want to have the Big C conversation with your loved ones. Trust me that is harder than stopping smoking."
Sue Mountain, 57, from South Tyneside, started smoking at the age of 11 and was diagnosed with laryngeal cancer at the age of 48. She said: "I am sharing my story because I don't want anybody else going through the journey that I went through because of smoking – or their family."
"When I was happy. I smoked. When I was stressed, I smoked. You lie to yourself and say you love smoking, but you need the cigarette – that's the addiction.
I spent tens of thousands of pounds and could have bought half a house or travelled the world many times over instead of getting cancer.
"My daughters' thought they were going to lose their mam. To see your daughters go through hell because of something that you've done was so hard. I think I have probably spent over £100,000 on cigarettes… I could have bought half a house with that or seen the world instead of getting cancer.
"To tell your family you have cancer because of smoking and to see the shock and the worry on their faces is so hard.  My voice has never been the same since radiotherapy. But I'm fortunate, I am alive and feeling fit and I never think of going back to a cigarette. Smoking did its best to take my health and my life. Now I have taken my life back.
"I don't want one person going through what I did. You can't ever stop trying to quit because smoking will catch up with you sooner or later and it won't be nice. I tried so many times to quit, but it's worth it."